DAILY VERSE
Open my eyes that I may see wonderful things in your law.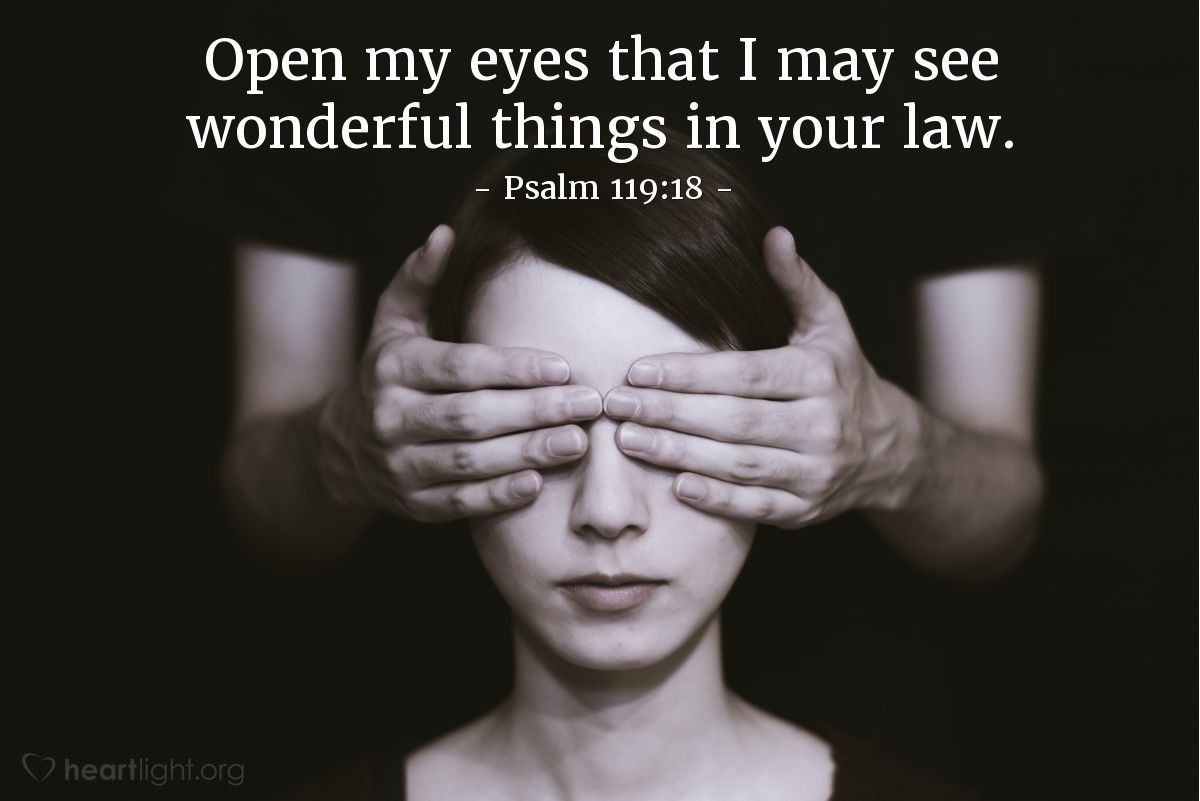 From our perspective of grace and having been liberated from law-keeping as a means of justification and righteousness, this is a very fitting prayer. We can look around our world and see the anarchy and brutality when there is no principle of law undergirding the soul of a society. God's law provided so many wonderful blessings, and can still bless us today if we will let it. But the greatest blessing of the O.T. Law is Jesus, in whom all of God's promises find their fulfillment.
DAILY SYNEXARIUM
7 Hatour 1736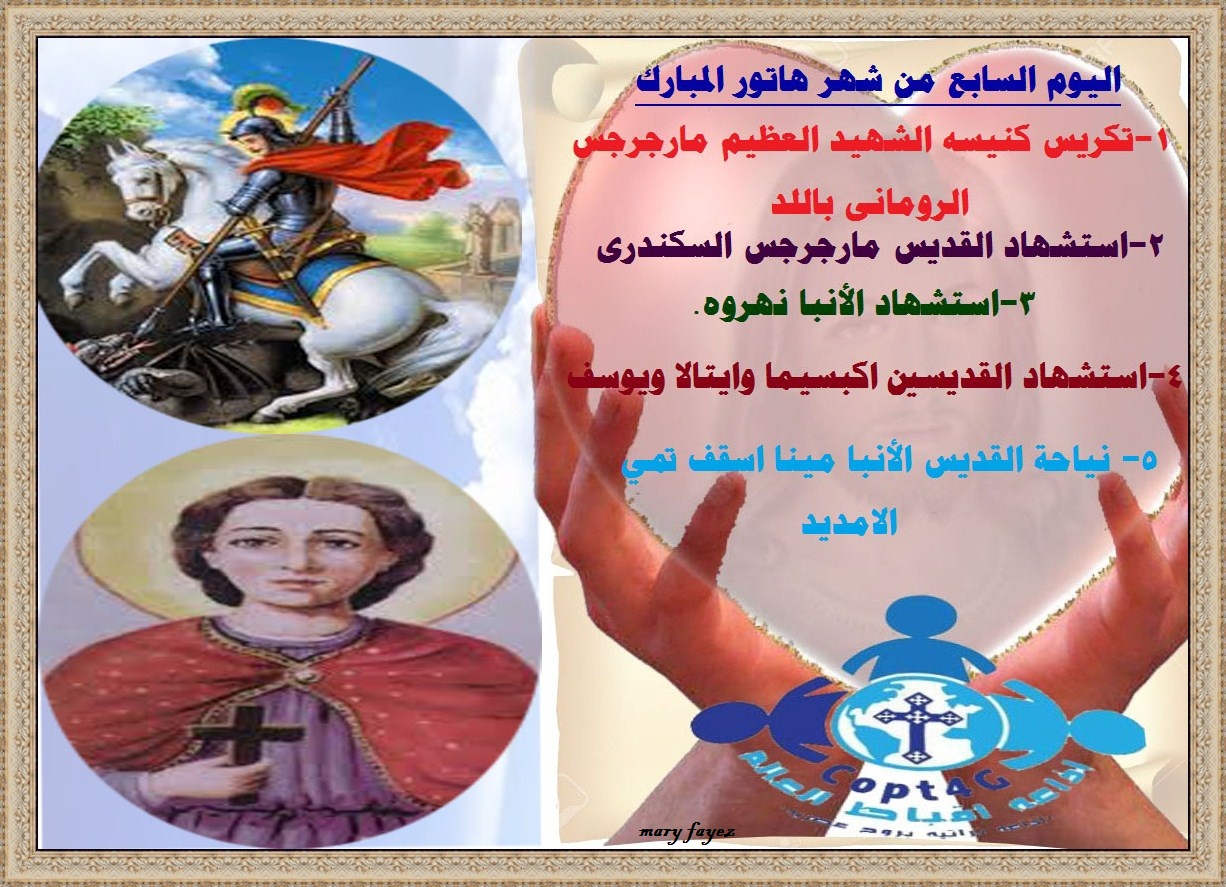 Day 7 of the Blessed Coptic Month of Hatour, may God make it always received, year after year, with reassurance and tranquility, while our sins after forgiven by the tender mercies of our God my fathers and brothers.
Amen.
The Seventh Day of the Blessed Month of Hatour
Martyrdom of St.George the Alexandrian


On this day, St. George (Gawargios) of Alexandria, was martyred. His father was a merchant in the city of Alexandria and had no son. It happened that he travelled to the city of Lydd and attended the feast of the consecration of the Church of St. George the martyr. He prayed to God, interceding with His great saint that he might have a son. God answered his prayers, and gave him a son, and he named him George. His mother was the sister of Armenius, the Governor of Alexandria. His parents died when he was 25 years old. George was merciful, loving and kind to the poor and loved the church. He stayed with his uncle who had only one daughter. One day she went with some of her friends for an outing. While they were walking nearby a monastery outside the city, she heard its monks singing sweet hymns. She was touched by what she had heard and asked her cousin George about it. He replied that those monks had forsaken the world to worship and he guided her to believe in the Lord Christ. He told her about the share of the sinners of the final punishment and the share of the righteous of felicity. When she returned to her father, she told him that she was a believer of Christ. He tried to reason with her, to dissuade her, and to lure her with great promises. Then he threatened her. When she did not hearken to his words, he ordered that her head be cut off, thus she received the crown of martyrdom.
      Later on, the Governor knew that George was responsible for her conversion. He seized him and tortured him severely. Then he sent him to Ansena where they also tortured him and finally they cut off his holy head, thus he received the crown of martyrdom. A deacon whose name was Samuel, took his holy body and carried it to the city of Manf, El-Giza province. When the wife of his uncle Armenius knew about it, she sent for the body and placed it with the body of her martyred daughter in Alexandria.
May His prayers be with us all. Amen.
Martyrdom of St.Nehrou
      On this day also, St. Nehroua, was martyred. He was from the district of Fayyum and he feared God. When he heard the accounts of the martyrs, he went to Alexandria to die for the Name of the Lord Christ. He was told in a vision that he must go to Antioch. While he was thinking of how to go there and looking for a ship to embark on, God sent to him His angel Michael, who carried him on his wings from Alexandria to Antioch and set him down before Diocletian. There he confessed the Lord Christ. Diocletian asked him about his name and his country, and when he knew Nehroua's story, he marvelled at the manner in which he had come. Diocletian offered him much money and many prizes to turn him away from his faith, but Nehroua refused. Then Diocletian threatened him, but could not frighten him. Therefore the Emperor ordered that he be tortured in many different ways. One time they tortured him by releasing lions to attack him, once by burning him in a fire, another by squeezing him in the wheel, and still another time by casting him in a cauldron with fire under it. Finally, they cut off his holy head with a sword and he received the crown of martyrdom. St. Nehroua became a counterpart for those from Antioch who were martyred in the land of Egypt. It happened that St. Julius El-Akfahsee was present at the time of his martyrdom, so he took his body and sent it with two of his men to St. Nehroua's country with great honor.
May His prayers be with us all. Amen.
Departure of St.Mina, Bishop of Tamai
      Today also, St. Mina, bishop of the city of Tamai El-Amdid in Sinbelawain, departed. His father was from the city of Samannoud. He was the only son of God-fearing parents. They practiced the works of the monks such as fasting, prayers and asceticism until their report was heard throughout the country. They made their son marry against his will. But he agreed with his wife on keeping their virginity. They remained so, doing many worships as practiced by monks, wearing sackcloth and spending most of their nights in prayer and reading the word of God. This saint longed to be a monk and he discussed it with his wife saying, "It is improper for us to practice the monastic works while we are in the world." She agreed with him, and he went to the monastery of Anba Antonius, to be far away from his parents. They looked for St. Mina to return him back to his wife and they knew not where he was. From there he went with Anba Mikhail, who became later on the 46th Pope of Alexandria, to the monastery of St. Macarius, where they became monks. That was during the time of the two bright stars Anba Abraam and Anba Gawargah. Father Mina became their disciple, he learned from them, followed the way of their worship and increased in his angelic works until he surpassed in his worship many of the fathers. Satan envied him for his strenuous fight and afflicted him in his legs and he laid flat on the ground for two months. After that the Lord Christ healed St. Mina, who overcame Satan with the might of God.
      Later on, he was called for the rank of episcopate. When the messengers of the Patriarch came to him and he knew the reason for their visit, he wept and was sorrowful to leave the desert. The fathers convinced him that this was the will of God. He obeyed and went with the messengers to the Patriarch who ordained him Bishop of the city of Tamai. The Lord granted him the gift of healing the sick, the gift of knowing the hidden things and he knew what was in the minds of people. The bishops of the surrounding districts used to come to him for counselling. People from everywhere came to listen to his teachings. He was the father of four Patriarchs and he laid his hand upon them when they were ordained. They were: Anba Alexandros II, Anba Cosma, Anba Theodore, and Anba Mikhail I. When the Lord Christ wished him to depart from this transient world, He informed him. Anba Mina called the people of his diocese and commanded them to be strong in the Orthodox faith and to keep the divine commandments. Then he committed them to their true shepherd, the Lord Jesus Christ and departed from this transitory world and came to Christ, Whom he loved. The people wept and mourned the loss of their shepherd and their father after the Lord, who cared for their souls. They buried him in a fitting manner and laid him in the place, as he had directed beforehand.
May His prayers be with us all. Amen.
Consecration of the Church of St.George of Cappadocia
      Also on this day, is the commemoration of the consecration of the Church of the honorable saint and great martyr St. George in the city of Lydd. We also commemorate the great wonders and signs, the Lord has done therein which became known throughout the land and sea. When Emperor Diocletian heard the reports of this church, he sent Eukheius, the head of his army, with soldiers to destroy it. Eukheius came with arrogance to where the icon of St. George was and he began to scoff at the Christians and at the Saint. He had a staff in his hand with which he struck the lamp, which was burning before the icon of St. George and he broke it. A fragment of the lamp fell on his head. Fear and great trembling came upon him and he fell prostrate on the ground. The soldiers carried him, to take him back to his country, for they knew that this had happened to him because of his mockery towards this great martyr. Eukheius died on the way back with disgrace, and they cast him into the sea. When Diocletian heard this, he became angry and decided to go himself to this church and destroy it. The Lord bore no longer with him to do what he had determined to do and He smote him with blindness and the men of his kingdom rose up against him. The Lord took the kingdom away from him and placed Constantine, a righteous Emperor, in his place. Emperor Constantine closed pagan temples and opened the churches. The churches and the universe rejoiced, especially the church of the great martyr, the star of the morning, St. George.
May his prayers and blessings be with us all, and Glory be to God forver. Amen.
DAILY KATEMAROS
Monday, 16th November 2020 --- 7 Hatour 1737
Vespers
Vespers Psalm
From the Psalms of our teacher David the prophet.
May his blessings be with us all.
Psalms 34 : 17 - 18
Chapter 34
| | |
| --- | --- |
| 17 | The righteous cry out, and the LORD hears, And delivers them out of all their troubles. |
| | |
| --- | --- |
| 18 | The LORD is near to those who have a broken heart, And saves such as have a contrite spirit. |
Blessed is he who comes in the name of the Lord. Our Lord God, Savior, and King of us all, Jesus Christ, the Living Son of God to whom be glory forever.
Amen.
Vespers Gospel
Stand in the fear of God and listen to the Holy Gospel.
A reading from the Gospel according to our teacher Saint Matthew the Evangelist.
May His Blessings be with us all.
Matthew 10 : 16 - 22
Chapter 10
| | |
| --- | --- |
| 16 | "Behold, I send you out as sheep in the midst of wolves. Therefore be wise as serpents and harmless as doves. |
| | |
| --- | --- |
| 17 | But beware of men, for they will deliver you up to councils and scourge you in their synagogues. |
| | |
| --- | --- |
| 18 | You will be brought before governors and kings for My sake, as a testimony to them and to the Gentiles. |
| | |
| --- | --- |
| 19 | But when they deliver you up, do not worry about how or what you should speak. For it will be given to you in that hour what you should speak; |
| | |
| --- | --- |
| 20 | for it is not you who speak, but the Spirit of your Father who speaks in you. |
| | |
| --- | --- |
| 21 | "Now brother will deliver up brother to death, and a father his child; and children will rise up against parents and cause them to be put to death. |
| | |
| --- | --- |
| 22 | And you will be hated by all for My name's sake. But he who endures to the end will be saved. |
And Glory be to God forever.
Matins
Matins Psalm
From the Psalms of our teacher David the prophet.
May his blessings be with us all.
Psalms 34 : 19 - 20
Chapter 34
| | |
| --- | --- |
| 19 | Many are the afflictions of the righteous, But the LORD delivers him out of them all. |
| | |
| --- | --- |
| 20 | He guards all his bones; Not one of them is broken. |
Blessed is he who comes in the name of the Lord. Our Lord God, Savior, and King of us all, Jesus Christ, the Living Son of God to whom be glory forever.
Amen.
Matins Gospel
Stand in the fear of God and listen to the Holy Gospel.
A reading from the Gospel according to our teacher Saint Mark the Evangelist.
May His Blessings be with us all.
Mark 8 : 34 - 9 : 1
Chapter 8
| | |
| --- | --- |
| 34 | When He had called the people to Himself, with His disciples also, He said to them, "Whoever desires to come after Me, let him deny himself, and take up his cross, and follow Me. |
| | |
| --- | --- |
| 35 | For whoever desires to save his life will lose it, but whoever loses his life for My sake and the gospel's will save it. |
| | |
| --- | --- |
| 36 | For what will it profit a man if he gains the whole world, and loses his own soul? |
| | |
| --- | --- |
| 37 | Or what will a man give in exchange for his soul? |
| | |
| --- | --- |
| 38 | For whoever is ashamed of Me and My words in this adulterous and sinful generation, of him the Son of Man also will be ashamed when He comes in the glory of His Father with the holy angels." |
Chapter 9
| | |
| --- | --- |
| 1 | And He said to them, "Assuredly, I say to you that there are some standing here who will not taste death till they see the kingdom of God present with power." |
And Glory be to God forever
Liturgy Gospel
Paulines Epistle
Paul, the servant of our Lord Jesus Christ, called to be an apostle, appointed to the Gospel of God.
A reading from the Epistle of our teacher Paul to the Romans .
May his blessings be upon us.
Amen.
Romans 8 : 28 - 39
Chapter 8
| | |
| --- | --- |
| 28 | And we know that all things work together for good to those who love God, to those who are the called according to His purpose. |
| | |
| --- | --- |
| 29 | For whom He foreknew, He also predestined to be conformed to the image of His Son, that He might be the firstborn among many brethren. |
| | |
| --- | --- |
| 30 | Moreover whom He predestined, these He also called; whom He called, these He also justified; and whom He justified, these He also glorified. |
| | |
| --- | --- |
| 31 | What then shall we say to these things? If God is for us, who can be against us? |
| | |
| --- | --- |
| 32 | He who did not spare His own Son, but delivered Him up for us all, how shall He not with Him also freely give us all things? |
| | |
| --- | --- |
| 33 | Who shall bring a charge against God's elect? It is God who justifies. |
| | |
| --- | --- |
| 34 | Who is he who condemns? It is Christ who died, and furthermore is also risen, who is even at the right hand of God, who also makes intercession for us. |
| | |
| --- | --- |
| 35 | Who shall separate us from the love of Christ? Shall tribulation, or distress, or persecution, or famine, or nakedness, or peril, or sword? |
| | |
| --- | --- |
| 36 | As it is written: "For Your sake we are killed all day long; We are accounted as sheep for the slaughter." |
| | |
| --- | --- |
| 37 | Yet in all these things we are more than conquerors through Him who loved us. |
| | |
| --- | --- |
| 38 | For I am persuaded that neither death nor life, nor angels nor principalities nor powers, nor things present nor things to come, |
| | |
| --- | --- |
| 39 | nor height nor depth, nor any other created thing, shall be able to separate us from the love of God which is in Christ Jesus our Lord. |
The grace of God the Father be with you all.
Amen.
Catholic Epistle
A Reading from Epistle 1 of St. Peter .
May his blessing be upon us.
Amen.
1 Peter 4 : 1 - 11
Chapter 4
| | |
| --- | --- |
| 1 | Therefore, since Christ suffered for us in the flesh, arm yourselves also with the same mind, for he who has suffered in the flesh has ceased from sin, |
| | |
| --- | --- |
| 2 | that he no longer should live the rest of his time in the flesh for the lusts of men, but for the will of God. |
| | |
| --- | --- |
| 3 | For we have spent enough of our past lifetime in doing the will of the Gentiles--when we walked in lewdness, lusts, drunkenness, revelries, drinking parties, and abominable idolatries. |
| | |
| --- | --- |
| 4 | In regard to these, they think it strange that you do not run with them in the same flood of dissipation, speaking evil of you. |
| | |
| --- | --- |
| 5 | They will give an account to Him who is ready to judge the living and the dead. |
| | |
| --- | --- |
| 6 | For this reason the gospel was preached also to those who are dead, that they might be judged according to men in the flesh, but live according to God in the spirit. |
| | |
| --- | --- |
| 7 | But the end of all things is at hand; therefore be serious and watchful in your prayers. |
| | |
| --- | --- |
| 8 | And above all things have fervent love for one another, for "love will cover a multitude of sins." |
| | |
| --- | --- |
| 9 | Be hospitable to one another without grumbling. |
| | |
| --- | --- |
| 10 | As each one has received a gift, minister it to one another, as good stewards of the manifold grace of God. |
| | |
| --- | --- |
| 11 | If anyone speaks, let him speak as the oracles of God. If anyone ministers, let him do it as with the ability which God supplies, that in all things God may be glorified through Jesus Christ, to whom belong the glory and the dominion forever and ever. Amen. |
Do not love the world or the things in the world.
The world passes away, and its desires; but he who does the will of God abides forever.
Amen.
Acts of the Apostles
The Acts of our fathers the apostles, may their blessings be with us.
Acts 16 : 16 - 34
Chapter 16
| | |
| --- | --- |
| 16 | Now it happened, as we went to prayer, that a certain slave girl possessed with a spirit of divination met us, who brought her masters much profit by fortune-telling. |
| | |
| --- | --- |
| 17 | This girl followed Paul and us, and cried out, saying, "These men are the servants of the Most High God, who proclaim to us the way of salvation." |
| | |
| --- | --- |
| 18 | And this she did for many days. But Paul, greatly annoyed, turned and said to the spirit, "I command you in the name of Jesus Christ to come out of her." And he came out that very hour. |
| | |
| --- | --- |
| 19 | But when her masters saw that their hope of profit was gone, they seized Paul and Silas and dragged them into the marketplace to the authorities. |
| | |
| --- | --- |
| 20 | And they brought them to the magistrates, and said, "These men, being Jews, exceedingly trouble our city; |
| | |
| --- | --- |
| 21 | and they teach customs which are not lawful for us, being Romans, to receive or observe." |
| | |
| --- | --- |
| 22 | Then the multitude rose up together against them; and the magistrates tore off their clothes and commanded them to be beaten with rods. |
| | |
| --- | --- |
| 23 | And when they had laid many stripes on them, they threw them into prison, commanding the jailer to keep them securely. |
| | |
| --- | --- |
| 24 | Having received such a charge, he put them into the inner prison and fastened their feet in the stocks. |
| | |
| --- | --- |
| 25 | But at midnight Paul and Silas were praying and singing hymns to God, and the prisoners were listening to them. |
| | |
| --- | --- |
| 26 | Suddenly there was a great earthquake, so that the foundations of the prison were shaken; and immediately all the doors were opened and everyone's chains were loosed. |
| | |
| --- | --- |
| 27 | And the keeper of the prison, awaking from sleep and seeing the prison doors open, supposing the prisoners had fled, drew his sword and was about to kill himself. |
| | |
| --- | --- |
| 28 | But Paul called with a loud voice, saying, "Do yourself no harm, for we are all here." |
| | |
| --- | --- |
| 29 | Then he called for a light, ran in, and fell down trembling before Paul and Silas. |
| | |
| --- | --- |
| 30 | And he brought them out and said, "Sirs, what must I do to be saved?" |
| | |
| --- | --- |
| 31 | So they said, "Believe on the Lord Jesus Christ, and you will be saved, you and your household." |
| | |
| --- | --- |
| 32 | Then they spoke the word of the Lord to him and to all who were in his house. |
| | |
| --- | --- |
| 33 | And he took them the same hour of the night and washed their stripes. And immediately he and all his family were baptized. |
| | |
| --- | --- |
| 34 | Now when he had brought them into his house, he set food before them; and he rejoiced, having believed in God with all his household. |
The word of the Lord shall grow, multiply, be mighty, and be confirmed, in the holy Church of God.
Amen.
Divine Psalm
Stand in the fear of God and listen to the Holy Gospel.
A reading from the Gospel according to our teacher Saint John the Evangelist.
May His Blessings be with us all. Amen.
From the Psalms of our teacher David the prophet, and the Good King.
May his blessings be with us all.
Psalms 97 : 11 - 12
Chapter 97
| | |
| --- | --- |
| 11 | Light is sown for the righteous, And gladness for the upright in heart. |
| | |
| --- | --- |
| 12 | Rejoice in the LORD, you righteous, And give thanks at the remembrance of His holy name. |

Hallelujah.
Divine Gospel
Blessed is he who comes in the name of the Lord.
Our Lord God, Savior, and King of us all, Jesus Christ, the Living Son of God to whom be glory forever.
Amen.
Luke 21 : 12 - 19
Chapter 21
| | |
| --- | --- |
| 12 | But before all these things, they will lay their hands on you and persecute you, delivering you up to the synagogues and prisons. You will be brought before kings and rulers for My name's sake. |
| | |
| --- | --- |
| 13 | But it will turn out for you as an occasion for testimony. |
| | |
| --- | --- |
| 14 | Therefore settle it in your hearts not to meditate beforehand on what you will answer; |
| | |
| --- | --- |
| 15 | for I will give you a mouth and wisdom which all your adversaries will not be able to contradict or resist. |
| | |
| --- | --- |
| 16 | You will be betrayed even by parents and brothers, relatives and friends; and they will put some of you to death. |
| | |
| --- | --- |
| 17 | And you will be hated by all for My name's sake. |
| | |
| --- | --- |
| 18 | But not a hair of your head shall be lost. |
| | |
| --- | --- |
| 19 | By your patience possess your souls. |

And Glory be to God forever.
DAILY CONTEMPLATION
سنكسار يوم 7 من شهر هاتور لسنة 1733 لتقويم الشهداء الموافق 17 من شهر نوفمبر لسنة 2016 بالتقويم الميلادى
القديس أفرم السرياني: يعتبر الصوم هو هروبٌ من الوليمة الأرضية إلى الوليمة السماوية. إنه استنارةٌ وصلاة وانتصار. صعود إلى الجبل بلونٍ أرضي ونزول إلى الأرض ببهاء سماوي. إنه البهجة والغفران، والعطش إلى الماء الحي والتلذذ على مائدة الملكوت السماوي. فالصوم يفتح خِزانَةَ الروح القدس ليأخذ الصائمُ الوحي الحقيقي ويمجّد الله على معرفة كمال الحقيقة التي لا يصل إليها إلاّ الصائمون البعيدون عن التلذذ بشرَه الأطعمة الأرضية. ويجعلنا الصوم نشترك في وليمة المسيح السماوية، ونفرح بالغذاء العقلي الذي يفيضه علينا، ويزيّن جسدنا ونفسنا بالبهاء، فنصبح آنية مختارة يحلّ فيها الروح القدس. وهو الطريق الأكيدة التي توصلنا إلى المجد بعد أن نتجرّد عن حطام هذه الدنيا الزائلة.